ABB Optical Group and CooperVision Specialty EyeCare Announce the 8th Annual Optometry Student Challenge
Third and fourth-year students eligible to win a $1,500 travel grant to the 2023 Global Specialty Lens Symposium (GSLS) in Las Vegas
Coral Springs, FL – August 16, 2022: ABB Optical Group, in conjunction with CooperVision Specialty EyeCare, is excited to announce that it is accepting abstract submissions for the 8th annual Optometry Student Challenge.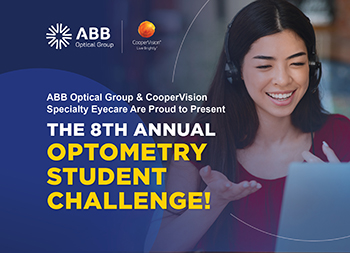 The Optometry Student Challenge will award travel grants of $1,500 each to three third or fourth-year optometry students to attend the 2023 Global Specialty Lens Symposium (GSLS), held on January 18 -21, 2023, in Las Vegas to present their winning scientific poster on a topic, of the student's choice, related to contact lenses.
"We are excited to offer our Optometry Student Challenge once again and provide challenge winners the opportunity to travel to the GSLS. This is a great opportunity for optometry students to present their work and connect with their peers in the eyecare industry. The future is bright with a new wave of committed and passionate eye care professionals soon to join our industry. We can't wait to see what they come up with this year," said ABB Manager, Consultation & Education, Specialty Contact Lens, Dede Reyes.
In December, ABB and CooperVision Specialty EyeCare will hold a live webinar in which the top six student challenge finalists will present their posters virtually. Attendees will have the opportunity to vote on their favorite poster presentation. Scores will be incorporated in the overall judging of the winners. Last year, more than 120 attendees participated in the webinar and supported challenge finalists during their live virtual poster presentations.
"The Student Challenge is one of our favorite events each year because of the connection and collaboration it brings to students, optometry schools and industry leaders," said ABB Optical Group Chief Executive Officer Tom Burke. "We are always inspired by the fresh perspectives the contestants bring to the table and we think this is a great steppingstone for them to network as they start their careers in optometry."
"Specialty contact lenses are an art and a science. This challenge encourages optometry students to learn about specialty lenses and make a difference for patients now and into the future," said Dr. Kelly Voltz, OD, FAAO, FSLS, Senior Manager, Professional and Clinical Affairs, CooperVision Specialty Eyecare.
Optometry Student Challenge Program Rules
Third and fourth-year students who are interested in participating must register by August 31, 2022. Registered students must then submit an abstract on their proposed poster topic by October 15, 2022. Abstracts must focus on study projects or student-based case histories and topics are restricted to Contact Lenses and may include (but not limited to) contact lens applications for presbyopia, keratoconus, corneal topography, post penetrating keratoplasty or related irregular corneal surface, myopia control, lens care/solutions, custom soft lenses, ortho-k instrumentation for measurement of the ocular surface.
Abstracts will be judged, and six finalists will be selected and notified by October 22, 2022.
The finalists will then be required to convert their abstracts into scientific posters for further judging. The posters must be submitted in digital, PDF format to ABB Optical Group no later than November 12, 2022. The live virtual poster presentation will take place December 1, 2022.
Results of this competition will be communicated with the winners and runners-up by December 2, 2022. The lead authors of the top three posters will be awarded travel grants of $1,500 each to attend the 2023 symposium and present their posters. Additionally, three runner-up authors will receive honorable mention prizes of $250 each.
For more information on the Optometry Student Challenge, including full contest rules and guidelines, visit https://abboptical.com/OptometryStudentChallenge.
---
About ABB Optical Group
ABB Optical Group is a leading provider of optical products, services, and business solutions in the eye care industry. ABB operates through three business pillars: ABB Contact Lens, ABB Labs and ABB Business Solutions. ABB is focused on the future of eye care professionals, helping them succeed by making practices more efficient and assisting providers to effectively navigate market changes. Visit abboptical.com for more information.
Media Contacts:
For further media inquiries, please contact Sharon Martin at smartin@abboptical.com.