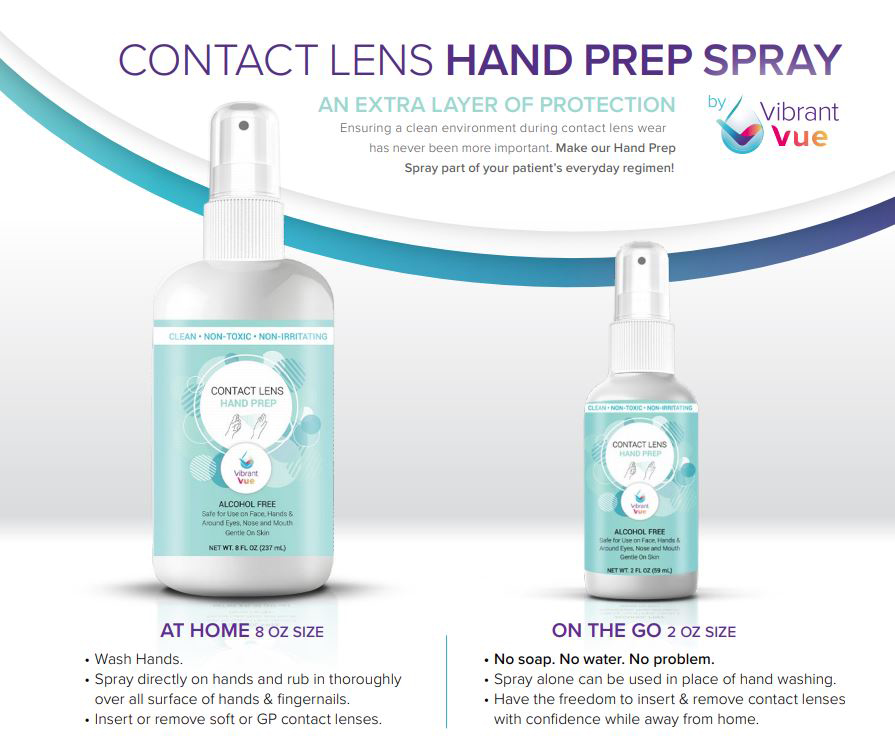 How It Works
CLEANS - No rinse formula! With just a few sprays, you can confidently handle your contact lenses.
HYDRATES - Alcohol free! Use regularly for maintaining clean, healthy skin without the drying effects of alcohol.
FRESHENS - Leaves your hands feeling cool & fresh with a very subtle cleansed scent that dissipates quickly.
Benefits
NON-IRRITATING - No stinging and burning when touching your eyes after use. Gentle on hands. Can improve appearance and texture of skin.
EFFECTIVE - HOCI (active ingredient) safely helps fight causes of infection (bacteria, germs, viruses).
ALL NATURAL - Non-cytotoxic. No antibiotics, steroids or triclosan. No need to wash after use.
Frequently Asked Questions
What is HOCI?
Hypochlorous acid (HOCI) is a molecule found naturally in the human body and is used to fight infection. It is used to protect against toxins, help fight causes of infection (bacteria, germs, viruses), and cleanse the skin. HOCI is created using salt-water and an electrical current. The process produces no toxic chemicals, residues or fumes.
Why use Contact Lens Hand Prep by VibrantVue®?
It has always been a priority to have clean hands when handling contact lenses, however, in the period of the COVID-19 pandemic, the necessity has intensified. While patients washing their hands with soap and tap water is a great first step, independent testing of our HOCI product showed that it was effective against COVID-19. Additionally, it is important to remember that Acanthamoeba can be present in tap water and HOCI - the active ingredient in our Contact Lens Hand Prep, is effective in killing this parasite.
When soap and water is not available (on the go), safe, effective, and non-irritating hand cleaning options may be very limited. Warnings have been published in the scientific literature regarding the overuse of Alcohol Based Hand Sanitizers (ABHS) including its flammability, accidental poisoning from ingestion as well as from inhalation and absorption through the skin; alcohol is clearly an ocular irritant and can cause a chemical conjunctivitis if exposed to the eye. Insertion and removal of contact lenses inevitably involves touching a contact lens to the hands and frequently the face and eyes; our Contact Lens Hand Prep provides an extra layer of security.
How long is this product effective?
The product has an expiration date of 2 years from the date of manufacture.
What are the ingredients?
Contact Lens Hand Prep by VibrantVue® uses a proprietary stable solution of 200 ppm electrolyzed Hypochlorous acid (HOCI). HOCI (200ppm) and electrolyzed water – that's it!
Can patients use this as a hand cleanser even when not handling contact lenses?
Absolutely! Our hand prep can be used anytime hands need cleaning. The active ingredient (HOCI) is an effective cleanser, gentle on skin and alcohol free.
Are the bottles refillable?
Yes. The Hand Prep system was designed to allow for the on-the-go 2 oz bottle to be refilled from the larger 8 oz bottle. This is economical and convenient for patients.
Does this product kill COVID-19?
There are currently nine products with hypochlorous acid (HOCI) as the active ingredient on the EPA's List ("N") of products that are effective against COVID-19. Of these, three have HOCI in concentrations which are less than that in VibrantVue® Contact Lens Hand Prep. An independent testing laboratory found that our formulation killed 99.8% of Human Coronavirus in 15 seconds of contact time. It also killed >99.9% of Adenovirus and 14 different bacteria within 15-60 seconds of contact time. Many pathogenic organisms develop resistance to antibiotics and some cleansers; this has not been shown to happen with HOCI.