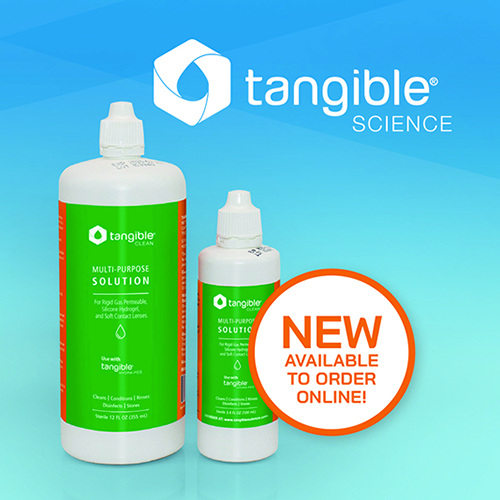 Be Confident that your Tangible® HydraPEG® patients are using the best care solution for their lenses.
Tangible® Clean is an FDA-cleared daily cleaning and disinfecting solution ideal for custom contact lenses coated with Tangible® Hydra-PEG®. It can also be used on any uncoated gas permeable contact lens.
Benefits
Rinses off easily, potentially avoiding problems associated with thick solutions
Simplifies cleaning, conditioning, disinfecting, rinsing and storing for coated lenses
Good value for patients - more solution for less $$ per ounce than leading brand
Ordering is easy, no prescription needed
FAQs
How long does a bottle of Tangible Clean last?
A 12oz bottle of Tangible Clean will typically last a patient 2 months of regular daily use.
How is Tangible Clean different than other multipurpose cleaners?
Tangible Clean is a thinner solution that rinses off the lens easily. This translates to potentially less preservatives staying on the surface of the lens, and a reduction in problems associated with thicker solutions.
What sizes does Tangible Clean come in?
Tangible Clean comes in a 12oz size, and a 3.4oz travel size. Both bottle sizes conveniently come with a lens case included.
Can I use Tangible Clean even if I don't have Tangible Hydra-PEG Treated Lenses?
Yes! Tangible Clean is FDA cleared for use with all rigid gas permeable lenses. Which means non Hydra-PEG patients can still experience the benefits of a thinner solution.
Can I soak my lenses overnight in Tangible Clean to disinfect them?
Yes you can! Tangible Clean can be used to clean, rinse, condition, disinfect, and store your lenses. It was designed to fit in with the care regimen that patients are familiar with, and is similar in use to Boston Simplus or Unique pH.
Do I need to rinse my lenses after cleaning them with Tangible Clean?
After cleaning and disinfection, patients may rinse their lenses off with Tangible Clean directly before insertion. Alternatively, patients may also choose to rinse lenses off with saline before insertion.
Available to order through ABB Optical Group by calling 800.772.3911, Option 3 for ABB Specialty Vision Products. Or log in to order online!