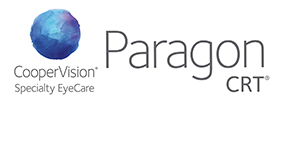 Get Paragon CRT® Certified and start expanding your treatment options!
Paragon Corneal Refractive Therapy® is a specially designed oxygen permeable therapeutic contact lens used in a non-surgical process that temporarily reshapes the cornea while you sleep. It was the first FDA approved orthokeratology system which includes a diagnostic dispensing system and a complete practice management program offering a simplified approach for Eye Care Practitioners to fitting their patients. CRT is a healthy vision correction alternative for patients desiring freedom from glasses and contact lenses during the day. Patients that play sports and/or have active lifestyles where contacts or glasses interfere, such as swimming, enjoy the benefits of Paragon CRT. Share the excitement with your patients as they experience the visual freedom from CRT and watch your practice grow with increased patient satisfaction and retention.
Distinctly different from traditional Ortho-k lens designs, Paragon CRT features Proximity Control Technology to provide a nearly impingement-free, safe tangent landing. Paragon CRT oxygen permeable therapeutic contact lens is designed with a harmonic front and back surface to provide a lens that is 30% thinner than other Ortho-k designs.
The Paragon CRT Base Curve is not a "fitting curve"; it is the "treatment curve". Always use the RZD or LZA, or a combination of both when making lens centration adjustments. Each Paragon CRT lens is plasma treated to enhance initial comfort and promote lens wettability.