ICD FLEXFIT TOOLS
• ICD Fitting Guide
• ICD Sales Guide
• Specialty Vision Products Collection
• Schedule an ICD FLEXFIT Lunch & Learn
A UNIQUE ALL-IN-ONE SCLERAL LENS SYSTEM
Advancements in Scleral Lens Design for Irregular and Normal Corneas
The ICD FLEXFIT is a unique scleral lens system offering an all-in-one solution for both irregular and normal corneas.
Available in both 16.3mm and 14.8mm diameters, this advanced scleral lens design will allow you to "FLEX" in 0.1mm increments across a wide diameter range for a custom fit.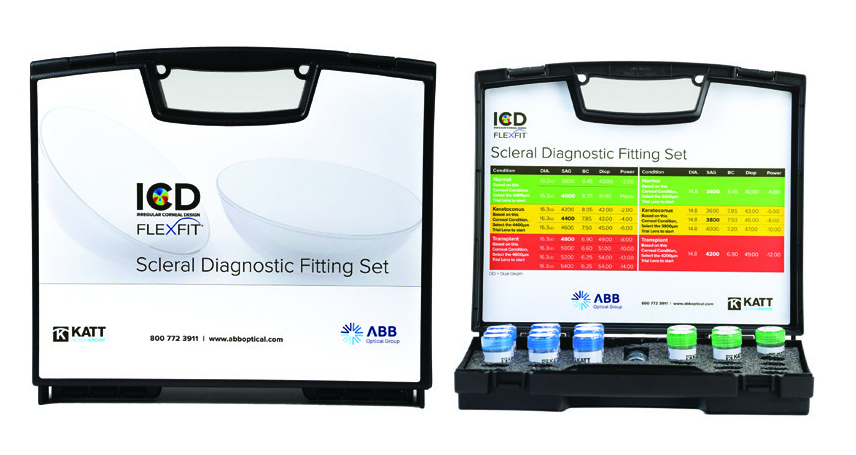 The ICD FLEXFIT is designed as a 4-Zone lens featuring Auto-FLEX technology to easily make increment adjustments to the vault or landing, while auto-adjusting the sagittal depth exactly to your patient's cornea.
Even the most challenging patients can look forward to receiving a perfect fit with ICD FLEXFIT.
Additional "flexing" beyond the diameter ranges above are also available.

DUAL DEPTH PERIPHERY™ TORIC LANDING
Provides Rotational Stability
Improves Lens Fit
Reduces Chair Time
Improves Comfort
Improves Wearing Time
---
"The ICD FLEXFIT is my go-to scleral lens of choice. I have some of the most complicated patients in the country referred to my specialty lens clinic, and about 80% of the time, I do not need to make any modifications to the standard design. When I do need modifications, I can easily customize every parameter to achieve a perfect fit on very complex patients."
- Dr. Katie Brown, Little Rock, AR
---
Summer 2018 - 2 Part Webinar Series
Join Randy Kojima for a FREE 2 Part Summer Series Specialty Lens Webinar. These webinars focus on the ICD FLEXFIT Scleral. The two webinars will cover Scleral Lens Fundamentals, Advanced Concepts and Troubleshooting.

Part 1: Scleral Fundamentals and the ICD FLEXFIT in Practice
Tuesday, June 26, 2018 @ 9PM Eastern Time
This course explores the reasons for the scleral explosion in practice today and the wide range of patients who can benefit from this lens. Discuss how scleral lenses can change vision, promote healing, relieve ocular pain and improve quality of life.
Part 2: ICD FLEXFIT Advanced Concepts and Troubleshooting
Tuesday, July 31, 2018 @ 9PM Eastern Time
This advanced scleral course will provide you with a deeper understanding of scleral shape, ICD FLEXFIT lens construction and problem solving options. We will cover a wide range of topics to expand your scleral fitting expertise. Some topics we will cover include scleral lens decentration and why this occurs; when to fit a symmetric, toric or asymmetric landing; how to fit an anterior surface toric lens; how to modify each zone in the ICD FLEXFIT and how much to modify for a customized fit. In this session you will expand your expertise and improve your scleral lens fitting efficiency on even the most challenging eyes.
For more information and to order, call our dedicated Scleral Lens Consultation line at 1-800-772-3911 and choose option 4.