Eyefinity and ABB Optical Group Announce Integration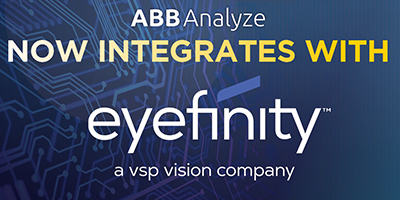 Rancho Cordova, CA – August 8, 2023: – Today, Eyefinity®, a VSP Vision™ company and leader in practice management and electronic health record software, announced an integration with ABB Analyze to deliver even more data-driven insights for optometric practices. ABB Analyze is software from ABB Optical Group - a leading distributor of optical products in the United States.
"We understand the power and accuracy of data is paramount in running a practice in today's environment. We are proud to have this integration with Eyefinity which will provide a new level of tools to help ECPs make informed business decisions," said Senior Director of ABB Analyze Casey Hedberg. "We truly believe that the only way to measure success is based on the success of our customers."
According to Eyefinity, the new integration allows Eyefinity Practice Management to share information safely and securely with ABB Analyze, which then transforms the data into more meaningful metrics and key performance indicators for practices - like revenue per patient, daily lenses sold, staff performance, and more.
"We are excited to bring this powerful integration between Eyefinity and ABB Analyze to the eye care industry," said Chief Operating Officer of Eyefinity, Charlie Biegel. "Our goal has always been, to streamline workflows and provide eye care professionals with capabilities they need to succeed in today's data-driven world. By seamlessly combining our practice management solution with ABB Analyze, we are empowering eye care providers to gain a deeper understanding of their practice and enhance operational efficiency."
To learn more visit: info.abboptical.com/abb-analyze.
---
About VSP Vision
At VSP Vision™, our purpose is to empower human potential through sight. As the first national not-for-profit vision benefits company, this is what drives everything we do. For nearly 70 years, VSP has been the leader in health-focused vision care. Every day, the people that power our complementary businesses—VSP® Vision Care, Marchon Eyewear, Inc., Visionworks®, Eyefinity®, Eyeconic, VSP® Optics, and VSP® Ventures—work together to create a world where everyone can bring their best vision to life. That means providing affordable access to eye care and eyewear for more than 85 million members through a network of more than 41,000 doctors. It also means expanding access to vision care to those disadvantaged by income, distance, or disaster through VSP Vision™ Eyes of Hope®. To date, more than 3.8 million people in need have received access to no-cost eye care and eyewear through one of our Eyes of Hope programs.
About ABB Optical Group
ABB Optical Group is a leading provider of optical products, services, and business solutions in the eye care industry. ABB operates through three business pillars: ABB Contact Lens, ABB Labs and ABB Business Solutions.
ABB's new platform, Abby, is designed to strengthen the relationship between eye care providers (ECPs) and their patients by keeping the doctor at the center of eye care. Through an easy, single online ordering platform, patients can access contact lenses from every major manufacturer with the added convenience of free shipping and hassle-free returns. Abby takes work off the practice's plate so they can focus on the most important - patient care.
ABB is focused on the future of eye care professionals, helping them succeed by making practices more efficient and assisting providers to effectively navigate market changes. Visit abboptical.com for more information.
Media Contacts:
For further media inquiries, please contact Sharon Martin at smartin@abboptical.com.