ABB OPTICAL GROUP ANNOUNCES LEADERSHIP CHANGES TO SUPPORT CUSTOMER-CENTRIC ORGANIZATION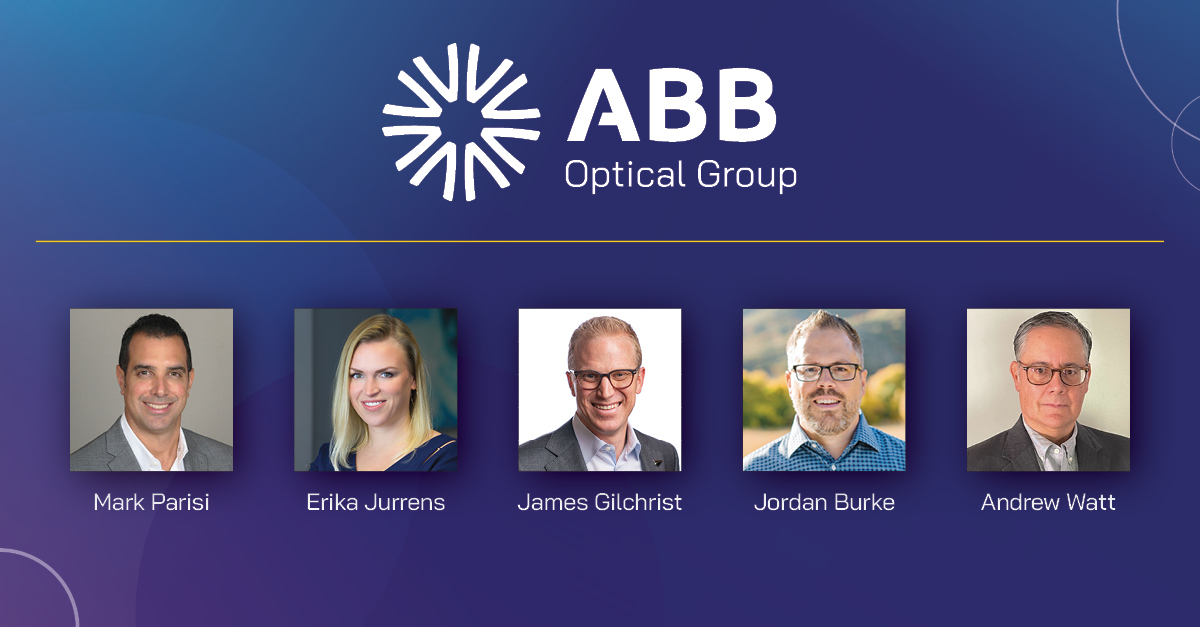 Coral Springs, FL – August 24, 2023: ABB Optical Group, America's leading independent eye care company, announced a series of organizational changes and additions to its executive and senior leadership team. The new customer-centric organizational structure will support the company's mission to deliver an exceptional customer experience with enhanced support and industry leading solutions & services for its valued customers.
ABB has created the Office of Customer Experience to support the company's strategic goals with two new roles:
Erika Jurrens will lead the Office of Customer Experience and has been appointed ABB's Chief Customer Officer with responsibilities for customer experience, customer service and marketing. This new role is uniquely positioned to drive change by focusing on what matters most for our customers - helping them provide exceptional care to their patients. With the support of ABB's executive leadership team, Jurrens will be leading key customer experience initiatives that will begin as early as Q4 of this year. She previously served as senior vice president and general manager of the business solutions pillar where she was responsible for the business solutions P&L, enterprise strategy and oversight of the marketing function.
Andrew Watt has been appointed to the new position of Director of Customer Experience where he will lead the development and implementation of customer experience initiatives across ABB including the management of the customer service team. He will work closely with cross-functional business groups to ensure that customer needs are at the forefront of all decisions and will utilize customer data and impact analysis to identify opportunities for improvement. Watt brings over 20 years of insights-driven customer experience and retention leadership to ABB. He most recently served as Global Lead of Customer Experience & Insights at Owletcare.com and previously was head of customer engagement and CX insights at 1-800-CONTACTS.
To further strengthen and accelerate ABB's ambition as the industry leading solutions provider for eye care professionals, ABB has also added the following key leaders to their organization:
James Gilchrist joins ABB as Senior Vice President & General Manager for ABB's Business Solutions pillar. Gilchrist has spent most of his career in the healthcare space with deep expertise leading business transformations at the intersection of commercial, technology, operations, and strategy functions. Most recently he served as President of Retail and Chief Transformation Officer for the US market at WS Audiology (WSA), a global leader in the hearing industry, where James led the unification of WSA's US Retail businesses resulting in HearUSA being selected as America's #1 Hearing Care Retailer by Newsweek. Prior to WSA, Gilchrist spent over 8 years at Essilor as a member of the Executive Committee and Senior Management Team and brings extensive experience developing solutions & services for eye care professionals. In his last role, his responsibilities included leadership of Essilor's Doctor Alliance groups (Vision Source, PERC, Optiport), optical management services organizations (Vision Associates & Triangle Visions Optometry), Managed Care division, and specialty manufacturing and distribution businesses (Classic Optical Laboratory and Nassau OOGP Vision Group).
Jordan Burke has joined ABB as Vice President of Digital E-Commerce and Abby and will develop digital commerce strategy and execution for all channels of ABB Optical Group. This will be a critical role in the expansion of the Abby online contact lens ordering platform. Burke brings over 17 years of experience with senior-level roles in many technology companies, including Weave, a large medical-centric communications platform. Burke is a decisive software leader with experience scaling rapid-growth SaaS and SMB businesses focusing on incubating, optimizing, and growing revenue.
To strengthen ABB's support for their customers, a new chief revenue officer role has been created to unify the enterprise sales organization across all business pillars – Contact Lens, Labs, and Business Solutions.
Mark Parisi has been appointed to the newly created role of Chief Revenue Officer and will lead ABB's enterprise sales organization to drive growth and market expansion across all business pillars. Parisi is an accomplished C-level Executive with more than 20 years of proven success across the healthcare, medical device, medical supply, and dental industries. He has held executive leadership positions with many Fortune 500 companies, as well as several private equity owned businesses. Parisi has extensive global and domestic commercial experience within physician-oriented healthcare markets. Most recently he served as Chief Revenue and Marketing Officer at National Dentex, the largest dental lab company in North America.
"I am honored to welcome these incredible leaders to the ABB team. They all bring their own unique expertise that will be instrumental in shaping the future of ABB," said Tom Burke, CEO of ABB Optical Group. "We are excited for this new organizational structure to come alive and how it will positively impact our customers and support the moments that matter."
---
About ABB Optical Group
ABB Optical Group is a leading provider of optical products, services, and business solutions in the eye care industry. ABB operates through three business pillars: ABB Contact Lens, ABB Labs, and ABB Business Solutions.
ABB's new platform, Abby, is designed to strengthen the relationship between eye care providers (ECPs) and their patients by keeping the doctor at the center of eye care. Patients can access contact lenses from every major manufacturer through an easy, single online ordering platform with the added convenience of free shipping and hassle-free returns. Abby takes work off the practice's plate so they can focus on the most important - patient care.
ABB is focused on the future of eye care professionals, helping them succeed by making practices more efficient and assisting providers to navigate market changes effectively. Visit abboptical.com for more information.
Media Contacts:
For further media inquiries, please contact Sharon Martin at smartin@abboptical.com.