ABB OPTICAL GROUP BECOMES AUTHORIZED DISTRIBUTOR OF EYERISTM CONTACT LENSES
Coral Springs, FL – May 2, 2022: ABB Optical Group, America's leading independent eye care company, announced today that it has become an authorized distributor of EyerisTM contact lenses. ABB is very pleased to be able to offer this product to eye care providers as it is not available for patients to order through mass merchandisers and online retailers. Eyeris offers patients all the conveniences of the online providers, but all online revenue is still realized by the prescribing doctor who initiated the prescription!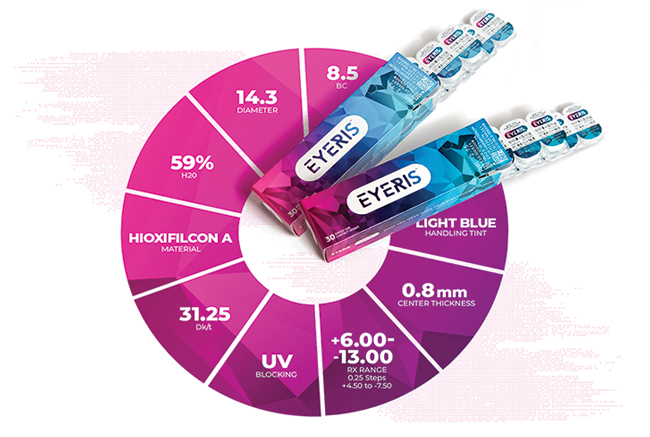 Eyeris currently offers a daily disposable soft contact lens with an RX range of +6.00 to -13.00 (1/4 diopter steps from -4.75 to -7.50) that is known for its all-day comfort. The lenses are comprised of 59% water which allow them to flex and conform with each patient's eye shape and stay soft all day long through a unique blend of time-released emollients. This lens material has the lowest stiffness rating of any lens material on the market and utilizes advanced cross-linking procedures to ensure consistent power across the optical zone. Designed by Dr. Lynn Winterton, known widely as the designer for the DT1 Family of lenses.
"Eyeris is a unique daily disposable exclusively available for private-practice and independent eye care professionals," added Aaron See, Senior Vice President of Manufacturing Partnerships. "We are excited that eye care providers will now be able to order this protected-revenue value-added product. We think patients are going to love it."
"We chose ABB Optical as a partner to broadly introduce our product to the market because we recognize ABB's position and the trust and confidence independent eye care doctors have in them. Eyeris provides a business model like no other to retain their hard-earned patient revenues. Eyeris is a company founded by eye doctors that all wanted to see a change in how manufacturers viewed and respected the role and importance of the doctor," said Andy Barrow, CEO of Eyeris. "We place patient eye health first above all else and are thrilled for more doctors and patients to get to enjoy the Eyeris experience."
ABB also supports Eyeris' love and care for our planet. At Eyeris, they use the plastic from their own spent lens molds to make their eye-shaped trial lens cases which double as lifetime-use travel cases. Their daily contacts use less plastic combined than 2 bottles of saline solution for monthly and bi-weekly lenses. Eyeris uses all their recycled material within a 108 mile-radius of its origination, lowering the amount of fossil fuel needed to get these materials to their next destination.
For more information go to www.myeyeris.com or visit https://info.abboptical.com/eyeris.
---
About ABB Optical Group
ABB Optical Group is a leading provider of optical products, services and business solutions in the eye care industry. ABB operates through three business pillars: ABB Contact Lens, ABB Labs and ABB Business Solutions. ABB is focused on the future of eye care professionals, helping them succeed by making practices more efficient and assisting providers to effectively navigate market changes. Visit www.abboptical.com for more information.
About Eyeris
Eyeris was birthed to design, build and launch innovative products & services, that enable OD's to effectively compete and retain their hard-earned patient revenues on all sales while providing the very best care and growing their business amid a sea of online 'direct to consumer' competitors that play no part in patient care!
Media Contacts:
For further media inquiries, please contact Sharon Martin at smartin@abboptical.com.