ABB OPTICAL GROUP EXPANDS INDEPENDENT LAB NETWORK WITH ACQUISITION OF GREEN OPTICS
Coral Springs, FL – March 14, 2022: ABB Optical Group, America's leading independent eye care company, has announced the acquisition of Green Optics, an independent full-service optical laboratory based in Auburn Hills, Michigan, expanding ABB Labs as the largest independent optical laboratory network in the United States.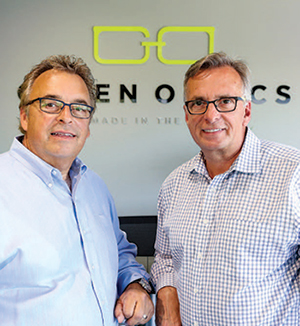 The acquisition of Green Optics will expand the ABB Labs network with the addition of their state-of-theart, 24,000 square foot facility. Green Optics is equipped with the latest technology for digital lens manufacturing, thermally cured dip hard coating as well as anti-reflective and mirror coatings. By combining the latest technology with precision craftmanship, Green Optics produces the finest eyewear in the industry.
"Green Optics is an extraordinary addition to our lab network. We share the priority of supporting the eye care provider community by providing the best optical lab support in the industry," said Scott Pearl, Senior Vice President and ABB Labs Managing Director. "I feel lucky to be able to work with Mike and Bernie Green and bring their team's proven high-level skill sets into our laboratory network."
Mike Green, President and Co-owner of Green Optics adds, "We pride ourselves on providing both the best quality and personalized service for both our doctors and their patients. We are aligned in our values and commitment to our customers success while keeping their patients at the center of all that we do."
"We will move forward with the same commitment to excellence we have always had and are excited about the opportunities for added efficiencies, services, and products this brings to our collective customers." said Bernie Green, Executive Vice President and Co-owner of Green Optics.
As an independent lab network, ABB offers the infrastructure, capacity, and products to support the practice's success and allows the doctor to focus on giving patients the customized quality care they deserve with a wide range of solutions.
---
About ABB Optical Group
ABB Optical Group is a leading provider of optical products, services and business solutions in the eye care industry. ABB operates through three business pillars: ABB Contact Lens, ABB Labs and ABB Business Solutions. ABB is focused on the future of eye care professionals, helping them succeed by making practices more efficient and assisting providers to effectively navigate market changes. Visit www.abboptical.com for more information.
About Green Optics
Brothers Mike and Bernie Green previously founded Great Lakes Coating Laboratory in 1994. In late 2015, Mike and Bernie assembled a team of industry veterans to create Green Optics. While continuing their focus on customers and quality, Green Optics has attracted some of the industry's finest craftsmen and currently has over 1500 years of combined optical experience on staff.
Media Contacts:
For further media inquiries, please contact Sharon Martin at smartin@abboptical.com.