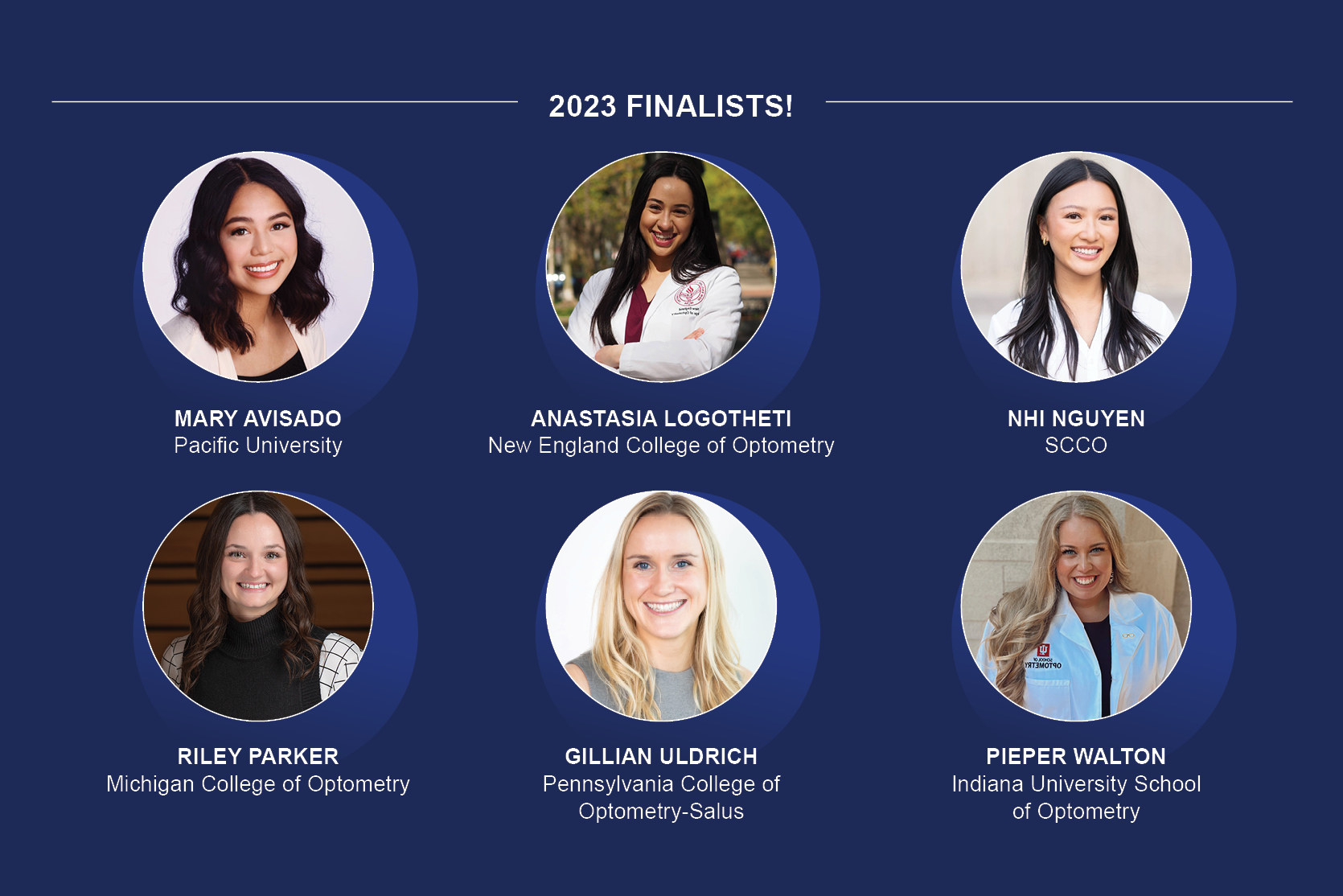 ABB Optical Group Announces 2023 Finalists for the 9th Annual Optometry Student Challenge
Finalists Will Present Posters During Live Webinar Event on November 29
Coral Springs, FL – November 17, 2023: ABB Optical Group, America's leading independent eye care company, is excited to announce the finalists of the 9th Annual Optometry Student Challenge. The six student challenge finalists will present their posters during a live webinar event on November 29 at 8 PM ET. In addition to a panel of judges, all audience participants will be invited to vote for their favorite submissions to help determine the challenge winners.
The Optometry Student Challenge will award travel grants of $1,500 each to three third or fourth-year optometry students to attend the 2024 Global Specialty Lens Symposium (GSLS), held on January 17-20 in Las Vegas, NV and present their winning scientific poster at the symposium.
"We invite all our industry peers to join us for a fun, interactive evening of scientific presentations. The students have worked so hard to prepare insightful contact lens case. Please show your support for our future peers by participating in the live voting on November 29," said Dede Reyes, ABB Manager, Consultation & Education, Specialty Contact Lens.
Register for the event at: https://us06web.zoom.us/webinar/register/WN_PIJ-6h34TDmY4ZQqi_wxaA#/registration
2023 Optometry Student Finalists:
| Finalist | Presentation Title | School |
| --- | --- | --- |
| Mary Avisado | Reshaping the future: Soft contact lenses can induce orthokeratology-like topographical effects | Pacific University |
| Anastasia Logotheti | Severe Keratoconus and "botched" crosslinking; opacified scar and steep corneal curvatures still yield markedly improved vision with scleral contact lenses | New England College of Optometry |
| Nhi Nguyen | Reclaiming Sight and Confidence: Prosthetic Lenses in Iris Atrophy | SCCO |
| Riley Parker | Correcting Crumby Vision: The Use of Scleral Lenses for Management of Granular Dystrophy | Michigan College of Optometry |
| Gillian Uldrich | Unmasking Post-Surgical Ectasia in a Pediatric Patient | Pennsylvania College of Optometry-Salus |
| Pieper Walton | The Relationship between Corneal Sagittal Depth and Corneal Diameter | Indiana University School of Optometry |
---
About ABB Optical Group
ABB Optical Group is a leading provider of optical products, services, and business solutions in the eye care industry. ABB operates through three business pillars: ABB Contact Lens, ABB Labs, and ABB Business Solutions.
ABB's new platform, Abby, is designed to strengthen the relationship between eye care providers (ECPs) and their patients by keeping the doctor at the center of eye care. Patients can access contact lenses from every major manufacturer through an easy, single online ordering platform with the added convenience of free shipping and hassle-free returns. Abby takes work off the practice's plate so they can focus on the most important - patient care.
ABB is focused on the future of eye care professionals, helping them succeed by making practices more efficient and assisting providers to navigate market changes effectively. Visit abboptical.com for more information.
Media Contacts:
For further media inquiries, please contact Sharon Martin at smartin@abboptical.com.