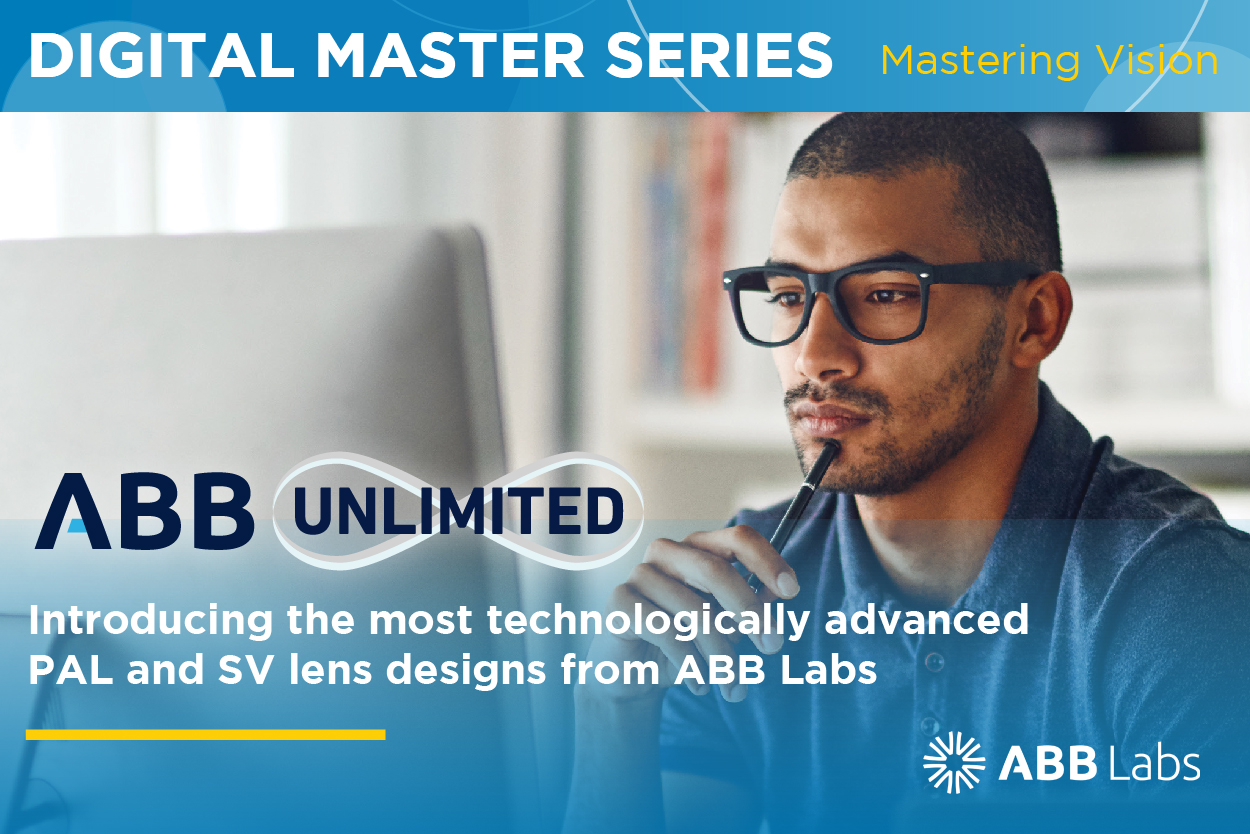 ABB Labs Launches New Technologically Advanced ABB Unlimited™ Lens Designs
Coral Springs, FL – November 10, 2022: ABB Labs, one of the largest independent optical laboratory networks in the United States, has announced the launch of ABB Unlimited™, a new technologically advanced optical lens design product line. As a division of ABB Optical Group, ABB Labs uses industry leading manufacturing technology, and a premier product portfolio to deliver customized solutions to its customers.
The ABB Unlimited line of products are categorized under the Digital Master Series, a proprietary lens series of ABB Optical, and are available in PAL (progressive addition lens) and SV (Single Vision) designs today, with plans to expand the design availability in 2023. The ABB Unlimited PAL and Single Vision designs feature innovative enhancements in digital lens personalization.
"We are proud to expand our product offering to include the new ABB Unlimited lenses. They are unlike any proprietary lens designs we have ever launched. The ABB Unlimited PAL and SV designs feature sophisticated personalization and new technology enhancements for today's modern lifestyle. As an independent lab network, we have the infrastructure and capacity to deliver new proprietary lens products to better support your practice," said Scott Pearl, SVP and Managing Director of ABB Labs.
The Unlimited PAL and Unlimited Single Vision lens designs are available in all lens materials from CR-39 through 1.74, in clear and bluDEFENSE, as well most other lens enhancements including polarized and photochromic options. For more information and specific availability visit: https://info.abboptical.com/abb-labs-unlimited
---
About ABB Optical Group
ABB Optical Group is a leading provider of optical products, services and business solutions in the eye care industry. ABB operates through three business pillars: ABB Contact Lens, ABB Labs and ABB Business Solutions. ABB is focused on the future of eye care professionals, helping them succeed by making practices more efficient and assisting providers to effectively navigate market changes. Visit abboptical.com for more information.
Media Contacts:
For further media inquiries, please contact Sharon Martin at smartin@abboptical.com.